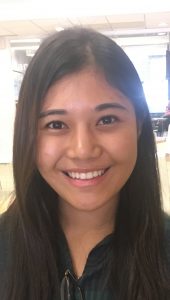 Chanutta Phiban is from Thailand. She has been studying at EC New York from July 17th and will continue studying until October 6th. She decided to sit down and share her thoughts about living in one of the biggest cities in the world:
I am studying English because it is one of the most important skills in my country, Thailand, to get a good job. I want to work as a diplomat in the future, so I really need to have strong English skills. I decided to come to EC New York because I have a friend here, and I thought it would be helpful to have someone to ask questions to if I had any problems. Plus, in one of the biggest cities int he world, it's great to have a friend to explore the city with. I love all the activities and things to do in New York. I love the subway system because it allows me to go wherever I want, whenever I want. I've become really independent living here! Plus, it's great to get to know people from all over the world and gain knowledge about their different cultures and languages.
The teachers at EC New York are amazing. They prepare really well for their classes and they cover all the skills that I need to practice, such as: reading, writing, speaking and listening. In addition, EC provides students not only classes but also various kinds of activities. It's really easy to meet friends here at the school. In my free time, I enjoy having coffee, visiting some famous places and landmarks and working out. I really recommend visiting some of the museums in New York because there are various types of museums. It's really a great way to gain knowledge about the world. My favorite museum is American Museum of Natural History. I watched the movie "A Night at the Museum" and it's cool to see the exhibitions in real life!
After I finish my course at EC, I plan to travel around American and then return to Thailand with all my great experiences, and hopefully get a great job!
We wish Chanutta the best of luck! Now it's your chance to study ESL in New York like Chanutta.
Comments
comments