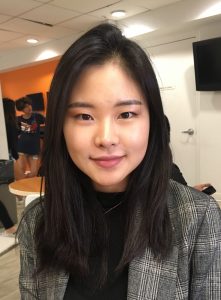 Dahyun Heo is from South Korea. She has been studying at EC New York from August 7th and will continue studying until February. She is a university student in her country, South Korea. Her major is Art history. She shared her experience at EC and in New York and here is what she said.
She is studying English because she wants to make many friends from all over the world. English is one of the most international languages around the world. If she can improve her English, she can easily get to know those who come from different countries and make many international friends. She thinks that English will make her life more fruitful. She can experience a lot of things through English.
She chose to come to New York because she likes Fashion. There are various styles of fashion and there are many famous and popular shops here in New York. She can know various kinds of fashion styles by living here. She can also meet many people from different countries here and get to know of them easily.
She likes EC because there are a lot of students from different countries. In Korea, she didn't have much opportunities to meet people from other countries. She made a lot of friends from all over the world after she came to New York and they are always open and friendly.
She likes listening to music and dancing in her free time.
She plans to go back to her country, South Korea after she graduates from EC. She will start studying at her University again.
She recommends to go to museums here because there are various kinds of museums. She especially recommends to go to Museum of Modern Art and Guggenheim Museum. She also recommends to go to rooftop bars and parks in New York.
Want to live like a New Yorker? Consider one of our Homestay English Courses in New York!
Comments
comments