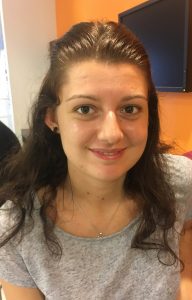 Jamila Angele Caldini is from Switzerland. She has been studying at EC New York since September 5th and will continue studying until November 24th. She just graduated from her high school and came to New York to study English and prepare for the Cambridge Exam. She shares her experience at EC and in New York and here is what she said.
She is studying English because English is one of the most important skills in Switzerland to get a good job. She also thinks that she needs English for her school. She likes learning languages because it makes her knowledge widen and English is one of the most international languages in the world.
She chose to study in New York because she loves New York very much. New York has tons of fun and interesting activities and there is always something to do here. She can easily find what she wants here.
She likes EC because of its activities, teachers and mix of nationalities. EC offers various kinds of activities that students can make a lot of new friends. She has made many friends through these activities. There are many students from all over the world so she can make many international friends at school. In addition, the teachers always prepare for the classes well. They try to make classes fun and interesting.
She recommends going sightseeing as much as possible because there are famous places in New York and they have different good points. She also recommends going shopping because there are various kinds of famous and popular shops here.
She plans to go back to her country after she graduates from EC. She wants to find what she wants to do in the future. She is sure that this experience is definitely going to be precious and great one for her.
Interested in learning more about the Cambridge exam? Then join Jamila in our ESL New York program!
Comments
comments