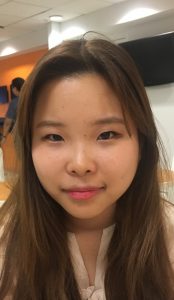 Inyoung Choi is from Seoul, South Korea. She has been studying at EC New York from February and will continue studying until September. She is a university student in her country. Her major is education. She plans to change her major to child welfare.
She is studying English because she wants to communicate with people from all over the world. English is one of the most international languages around the world.
She chose to come to New York to study English because it is one of the biggest cities all over the world. She is used to living in a big city because she is from Seoul, which is the capital of South Korea and one of biggest cities there. Therefore, New York is the perfect place to live for her. In addition, New York has good transportation. She doesn't have a driver's license but she can go wherever she wants by trains and buses. In addition, basically New Yorkers speak English fast so she thinks that it is a good chance to improve her listening and if she can get used to it, she can understand English that is spoken by people from any other cities.
There is always something to do in New York. There are a lot of museums, galleries and shops that never make her bored in New York.
There are always many chances at EC to encounter students from all over the world and make international and lifelong friends. The teachers are also a good part of EC New York. They try to make every single class fun and interesting.
She wants to study at a university in America or Canada. She also wants to live in a foreign country and work there in the future. She doesn't want to stay in only one country entire here life. She recommends to try various kinds of food from different countries because there are tons of restaurants in New York. She doesn't need to go to those countries to try them.
Get the full American experience like Inyoung and consider taking our Homestay English Courses in New York!
Comments
comments