March Madness refers to one of the biggest, most exciting, basketball competitions. in college basketball in the United States, 68 teams compete each spring in seven rounds for the national championship. The second to last round is known as the Final Four, when there are only four teams left! most viewers of March Madness enjoy the competition because of all the "Cinderella stories". This refers to teams who are not expected to win, or underdogs, who end up going quite far in the competition. There are also a lot of upsets, or unexpected losses by highly ranked teams. Unlike professional sports, March Madness is not so predictable and often stars are born right in front of your eyes. The competition is so unpredictable that Warren Buffet promises to give one million dollars to any person who has a perfect bracket! Sounds great, right?
Brackets are a way for viewers to get in on the action and participate in March Madness. The bracket lists all the teams in the competition, and you decide who will win the games and rounds in advance. You also pick the final four competing teams and the overall winner. As you continue to watch the teams play, you will lose some brackets and win others. Once again, if all of the teams that you pick in advance win, then you can ask Mr. Buffet to pony up and pay!
EC New York staff members are competing in March Madness. Even if you don't follow American sports, this is a great way to introduce yourself to some new vocabulary and American culture. Bars everywhere will be filled with viewers watching the games and analyzing their brackets. Pick up your own March Madness bracket at EC New York ESL Center and join in on the fun!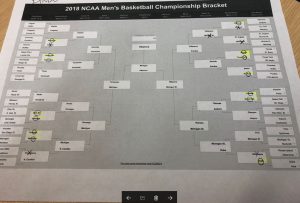 Comments
comments