Empire State of Mind
New York City has occupied a central role in film, television, literature and art.  The City That Never Sleeps has also inspired some of the most memorable music ever recorded and continues to feature in hit songs today.  So, whether you are about to visit the city or you find yourself wandering around its incredible streets or reminiscing about priceless memories made here, be sure to have the following NYC-themed songs on repeat.  Did you know that music is also a great way to practice listening skills and expand your vocabulary and knowledge of idiomatic and slang expressions?  These songs will also provide an awesome soundtrack for improving your English while you study English in New York. Here are some famous songs about New York City:
New York, New York – Frank Sinatra
One of the most iconic songs about New York City is most often associated with "old blue eyes", Frank Sinatra.  However, the song was first performed by Liza Minelli in the 1977 film, New York, New York.  The song features the classic lines, "If I can make it there, I'll make it anywhere".
Welcome to New York – Taylor Swift
You don't have to be a TSwift fan to appreciate this modern NYC anthem, which appeared on her highly successful album, 1989.  The song offers a positive "welcome to New York" for anyone who is open to the opportunities that the city has to offer: "It's a new soundtrack I could dance to this beat / The lights are so bright but they never blind me".
Empire State of Mind – Jay-Z featuring Alicia Keys
It's easy to see why The Times called this song a "loveletter to New York City".  The hit song describes NYC as a "concrete jungle where dreams are made" , an inspiring city where you can do and be anything.  No matter where you are , if this song starts playing, New Yorkers will put their hands in their air and belt out the rousing chorus with Alicia Keys.
Autumn in New York – Billie Holiday
For those who enjoy more classic music, try this beautiful ode to NYC by one of America's greatest voices:
"Autumn in New York, why does it seem so inviting?
Autumn in New York, it spells the thrill of first nighting
Glittering crowds and shimmering clouds in canyons of steel
They're making me feel, I'm home…"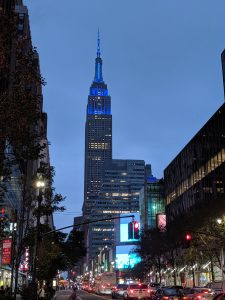 Comments
comments