English for Academic Purposes (EAP) is a great way to learn English. Our classrooms are located on a college campus and students have full access to all college facilities.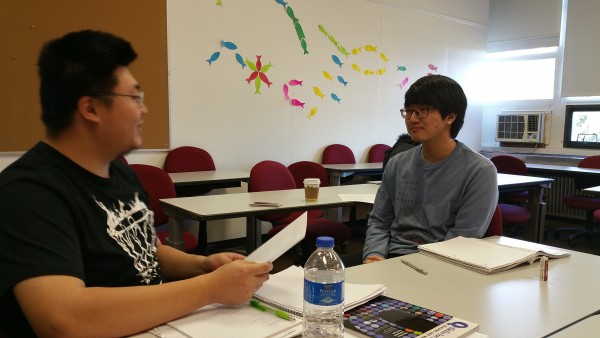 Welcome to the Sunny SUNY Oswego EC classroom!
This week we've been enjoying our beautiful weather while working hard on graphs and charts! In our skills classes this week, students have been working on prepositions of place, graph & chart vocabulary and two of last week's sentence structures to describe, draw and label charts and graphs from reading texts. The students then created their own line graph, pie or bar charts about 2 aspects of their daily lives to describe to their classmates. Let me tell you… these guys can draw some beautiful charts! They are going to need this talent not just at university but for their English for Academic Purposes (EAP) presentations on Monday. In EAP this week, we have been watching lectures on and discussing work-life balance in different countries.
On Monday, each student will deliver a presentation, complete with PowerPoint and charts, about the work-life of a country of their choosing. To wrap up the week, students in upper core took their global warming research papers from last week and turned them into one-on-one interviews.
Above, you see a photo of Cliff and Jace interviewing each other on the topics of air pollution and ozone layer depletion. This gave them the chance to practice developing open-ended and follow up questions, as well as using research materials in different ways. That's it for this week inside the SUNY Oswego EC classroom. See you next week!
Learn English for Academic Purposes at EC English Language Centres.
Comments
comments