Here at EC Oswego we strive to have the best teachers to be teaching our students who are taking English language courses in the US!
We would like to introduce to you….
Angela Herrera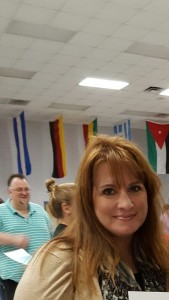 Where are you from?
Oswego, NY!
How long have you been teaching?
20 years
Why did you choose EC Oswego?
EC is a challenge, but a greatly rewarding one. I learn new things every day and that is a great way to work and help each other.
What is your favorite part about EC?
EC is a family. The teachers and students and staff all care about each other – genuinely.
Important advice for learning English:
PRACTICE! The more you use the skills – read, write, speak, and listen – the better you will become!
Fun fact about yourself:
I have 2 daughters – Rachel (20) and Isabella (14).
I grew up in Oswego, moved away for 20 years and just returned = very interesting changes!!
Comments
comments