American slang can be a difficult thing to understand.. so here is another slang phrase of the week for students taking English language courses in the US !
Phrase: "The cold shoulder"
Definition: A metaphor for deliberately ignore someone.
Example: "I'm giving Sam the cold shoulder because he beat me in basketball"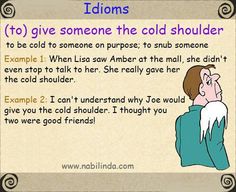 Can you think of a way to use this phrase in a sentence?
Comments
comments