Ohoud is a 28 year old student taking English language courses in the US! Her brother, Munthir, is also studying with us, and they are both from Saudi Arabia!
Ohoud just recently passed her level test, and we would like to congratulate her!
We asked her a few questions about her experience at EC Oswego:
What did you learn?
"I learned new vocabulary that help my language. I also learned grammar and editing articles."
What do you like most about the school/lessons?
"I have friendly classmates. It was good dealing with my teachers and administrative staff"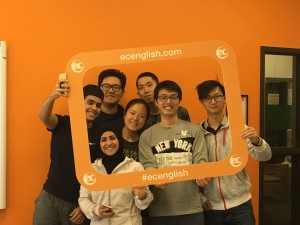 (She is the one in the bottom left!)
Ohoud is currently on a session break visiting family back home in Saudi Arabia, but we wish Ohoud the best in the rest of her studies!
Comments
comments