This week's American Slang Phrase is.. Piece of cake!
You may think we're talking about an actual piece of cake, but we are not!
Phrase: Piece of cake
Definition: A metaphor to describe something that is easy or effortless.
Used in a sentence: "I studied so hard, and knew every answer on my test.. it was a piece of cake!"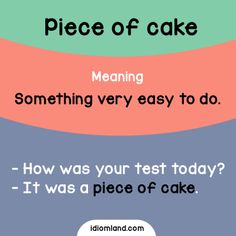 A lot of Americans use this phrase in every day conversation.. can you think of a way you would use this phrase while taking English language courses in the US?
Check back next week for another American Slang Phrase of the Week!
Comments
comments