This weeks American slang phrase is.. cost an arm and a leg!
Phrase: Cost an arm and a leg
Definition: Something very expensive
Example: "I really want the new Apple watch, but it costs an arm and a leg!"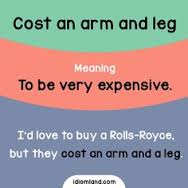 For the students at SUNY Oswego learning English for Academic Purposes.. can you think of a way to use this phrase?
Let us know if you have any suggestions for an American slang phrase of the week!
And check out our Facebook page for more postings!
Comments
comments