Congratulations Kobe!
Kobe is a 20 year old student from Korea who is here at EC Oswego to learn English for Academic Purposes.
He recently passed his current level test, and we are so excited!
We asked him a few questions about his experiences here at EC Oswego.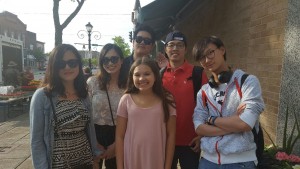 (he is in the back, middle, with the sunglasses on!)
How much did you improve?
"When I came to the U.S., I can't talk with any native speakers. Nowadays, I can order pizza and make many friends who are native speakers.
What is your favorite EC activity? Why?
"Presentation time. Because I can perform my speaking skills and feel like I'm being president"
Kobe is now working hard in and outside of the classroom to complete the Pre-Advanced level.
Keep up the good work Kobe!
Learn English for Academic Purposes at EC English Language Centres.
Comments
comments