Here is this week's activity calendar!
Getting involved on campus can be extremely beneficial for many reasons. These include; making new friends, becoming more familiar with campus, speaking with natives, and becoming momre familiar with American culture.
Your time at the University is supposed to be fun too! That's why there are always different activities and events to keep you busy!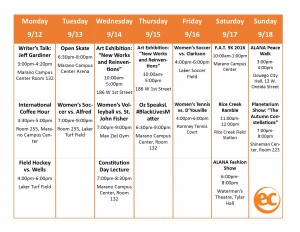 This week features a lot of Oswego Athletics games. Attending a sporting event is a great way to cheer on your school!
There is also Open Skate in the arena! Ice skating is a lot of fun, and it's so cheap!
We hope our students enjoy the activities Oswego offers, and we would like to hear what else you want to do!
Make the image bigger here –> 9.12
EC Oswego English Center provides lessons that fall under the English for Academic Purposes Syllabus
Comments
comments