We hope everyone's classes are going well, and that they are enjoying them! We also hope that you are taking advantage of all of the activities going on around campus, as well as all of the resources Oswego has to offer.
This week is packed full with different activities and events that are all FREE for SUNY Oswego Students!
There are a few good speakers that you could go and listen to, some sporting events to go cheer on the teams, and nighttime concerts or events to go and relax and listen to music at.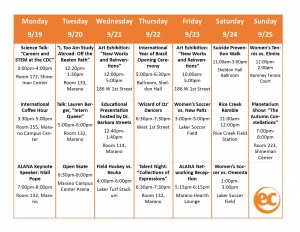 To make the picture bigger, click here –> 9.19
A lot of SUNY Oswego students attend these events, and that is a great way to make friends, and communicate with native speakers!
Enjoy your week!
EC Oswego English Center provides lessons that fall under the English for Academic Purposes Syllabus
Comments
comments