This week's American Slang Phrase is… "24/7"
A lot of American's exaggerate when using this phrase. Typically no one is doing doing "24/7" but if someone does something a lot, people will use this phrase.
Another reason this phrase is used is to describe stores that are open all the time. Some convenience stores or gas stations are literally open "24/7".
Phrase: 24/7
Meaning: Never stopping, non-stop (24 hours a day, 7 days a week)
Example: "Jason always answers my texts so fast, he is on his phone 24/7"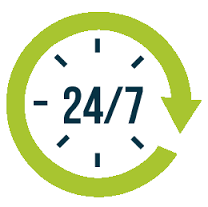 Can you think of a time when you would use this phrase?
Learn English for Academic Purposes at EC English Language Centres.
Comments
comments