This week the jobs in the first floor at the building of the school have finished.
With this, the second part is done and we can enjoy all the areas of the school. This floor is compounded by:
-Reception. The first thing you will see as soon you get in is the EC Oxford Reception and our receptionist Pablo. If you have any doubt, come to him and he will help you with anything.
– Library. We have a very big room on the left side specially designed for the students can do their homework, study for their tests, reading, etc… Silence is required in this room!
-Staff offices'. Our personal will have their own office in the left side of the floor.
-Computers room. Special room for the student can connect to the Internet during their break times.
-Student area. A huge lounge where the students can have their lunch, with a microwave and a fridge so they can cook and keep some food during the week.
And of course classrooms in the first floor and the second as well.
We are really excited with the opening of this new floor that can help us to offer a better service to the students and it will help the student to have a better experience here!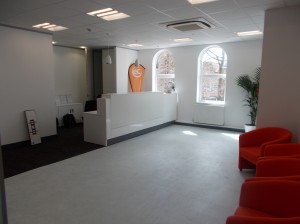 Comments
comments