Come along and enjoy the first Active Cutteslowe event at Sunnymead Park and Cutteslowe Community Centre.
Residents are invited to enjoy a fun-packed sports and community event on Friday 28 June 2013 from 3pm until 8pm.
You can try something new and take part in the wide range of free have-a-go sports activities and competitions hosted by local sports teams.
You will be able to explore the beautiful Cutteslowe and Sunnymead Park on a treasure hunt, sample tasty food including locally made cakes and get involved with a skate boarding competition.
There will be information stalls and stands hosted by local groups and partners as well as an art workshop which will see the creation of a new community art installation on the day.
The event will be opened by a lively Zumba demonstration with other dance workshops and displays throughout the day.
Councillor Bev Clack, Board Member for Youth and Communities, says: "Whether you want to be just like your sporting hero from the London 2012 games or try a new sport, there will certainly be something for everyone.
"From bowls and karate to lacrosse, rugby and more – you will be spoilt for choice! All activities will be fully inclusive and KEEN will also be present on the day offering a number of sports activities."
Ann Childs, Chair of the Cutteslowe Community Association, says: "Active Cutteslowe will be a great way of bringing the community together for a fun filled afternoon in the beautiful Sunnymead Park.
"We would like to thank all the partners and organisations that have helped make this event happen and are so pleased to have been able to support the event with £150 from our Community Led Planning funds."
Active Cutteslowe has been organised through a partnership between Cutteslowe Community Association, Cutteslowe Primary School, the North Oxford Children's Centre, Oxford City Council's Leisure, Parks and Communities team and local groups and volunteers. The event is being funded by the Cutteslowe Community Association's Community Action in Cutteslowe project and has been registered as a Community Games.
There will be no parking on site so people are encouraged to use public transport, to walk or cycle to the event.
For more information please visit the Oxford City Council website, email communities@oxford.gov.ukor call 01865 252742 or visit the event Facebook page for more details.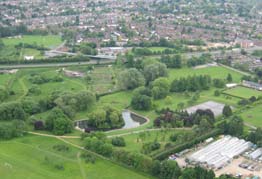 Comments
comments