Here it is the experience of Kyu, EC Regional Sales in Korea who spent with us a week, checking how the school works.
"Greetings to all EC Oxford staff and students!
My name is Kyu Kim from South Korea and I'm currently working in the Sales department for EC.
This entire week I was very fortunate enough to have had a week to spend at EC Oxford, our newest center, and I came away very impressed with how it's grown in such a short period of time.
Oxford is in a way very Oxford in my expectations, the way it exudes an atmosphere of an educational city but at the same time I was very surprised at how diverse the city was.  The buildings and everything are old but it still had a young vibe to it.
The students at EC Oxford seemed to be getting along with each other very well and hopefully soon enough once we get more students in they'll enjoy each other's company a lot more!
Special thanks to Charlie, Michael, Candice & Pablo for showing me the ropes of Oxford and hopefully see you guys again soon!"
Thanks Kyu and enjoy the rest of your stay in UK!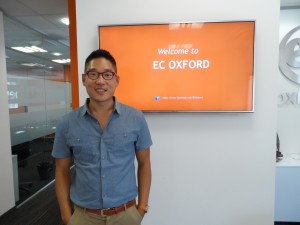 Comments
comments