This is going to be the social program of the school this week, from the 12th of August until the 16th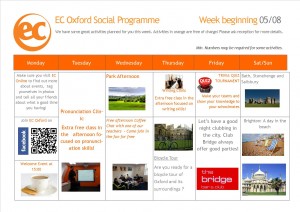 We will have very interesting activities such as our classic Pronunciation and Writing clinics (Tuesday and Thursday respectively).
Park afternoon on Wednesday will be a good time to relax in the park, join in the sports or just chat with classmates.
Bicycle Tour on Thursday, a fantastic way to get to know the city from another perspective.
And a new activity, Quiz Tournament, where studenst can show their general knowledge competing in groups against each other.
Comments
comments