This weekend, 25 & 26 August, the streets in Notting Hill, London will be filled with colourful sights and amazing sounds. The Notting Hill Carnival is the largest street festival in Europe that has taken place every year since 1966. It is led by members of the West Indian community who celebrate their own cultures and traditions.
At the roots of the Notting Hill Carnival are the Caribbean carnivals of the early 19th century. In that time it was all about celebrating the abolition of slavery and the slave trade.
If you would like to stay overnight, you can also join the After Party on Sunday 25 August from 11pm till 6am. The party will take place at the O2 Academy Islington, and you can buy your ticket on www.sunbailante.com or www.o2academyislington.co.uk.
Sign up at the reception and enjoy this special event!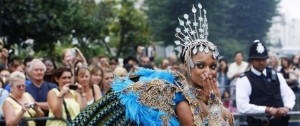 Comments
comments