Rob's elective visited the Ashmolean, Britain's oldest public museum, as part of their research about how the past impacts us today. Below is Ina's diary entry about her reflections on the experience.
'On Thursday 21st November, we visited the Ashmolean museum. When our teacher told us about his plan to visit museum together, I thought that it would be very boring. But I changed my mind when we arrived at the museum.
It was a big and spacious building with amazing and breath-taking rooms. We were surprised by how the past had created such wonderful art.
I was looking at pictures in the Europe section, when I saw an interesting statue in the corner of that room. It was a high quality bronze statue. All human detail showed perfectly on this statue.
The statue holds in his hands a mask with a smiling expression, but the expression on the face of the statue was so sad.
I don't remember how much time I looked at the statue. I just wondered how the sculptor could show such important meanings about our lives by one bronze statue.
This situation we meet every day in our life, because everyone wears a mask, a social mask.
I was touched by the depth of the veracity of this picture.
When I turned to leave, I noticed the name. It was Comedy and Tragedy, 1891.'
Thank you Ina for sharing your experience!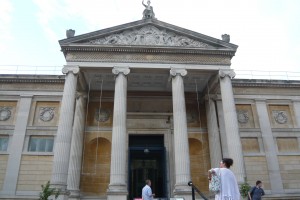 Comments
comments