Juan Carlos has studied at EC Oxford English School for more than 4 months. He would like to tell something about his experiences.
'Sometimes, big decisions are not easy, and resolve to learn a foreign language is an invaluable inversion, having the opportunity to study English in EC Oxford is one of the most fabulous and enriching experiences that I have had.
When you arrive to Oxford, you cannot imagine the alluring country, the marvellous city and the amazing multiculturalism that you will find.
In the end, when you see and feel how your English has been improved, you say, was the best decision.'
Thank you Juan! It was great having you here!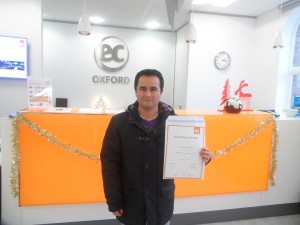 Comments
comments