As it is the festive season, we asked our students at EC Oxford English Language School to write about their Christmas and New Year celebrations in their own countries. Read what Thais, Milena and Elke wrote about Brazil, and what Josh wrote about South Korea:
Christmas and New Year in Brazil
Roman Catholicism is the country's predominant faith, so during those holidays people are used to celebrate the religious traditions. We usually celebrate Christmas at home with our whole family and friends, near to the Christmas tree to exchange gifts and have a lot of fun. At midnight we hold our hands and have a thankful prayer before the supper. Lots of people also go to a midnight mass or "Missa do Galo" (Mass of the Roster), which normally finishes about 1 a.m.
The New Year Eve in Brazil is a time of renewal, to put the problems of the past behind and look forward to the future and the New Year. It can be a family celebration like Christmas, but it`s also can be a moment to have a lot of fun. There are many options of parties in the entire country, one of these events is New Year's Eve in Rio de Janeiro at Copacabana Beach, this party is famous in sight of the amazing celebration and fireworks display. Also, there is a tradition that if you jump over 7 different waves while making your New Year's wish, it is more likely to come true. Plus it is traditional to eat 7 pieces of raisins by midnight. If you keep the seeds of the raisins in your purse you are likely to become very rich!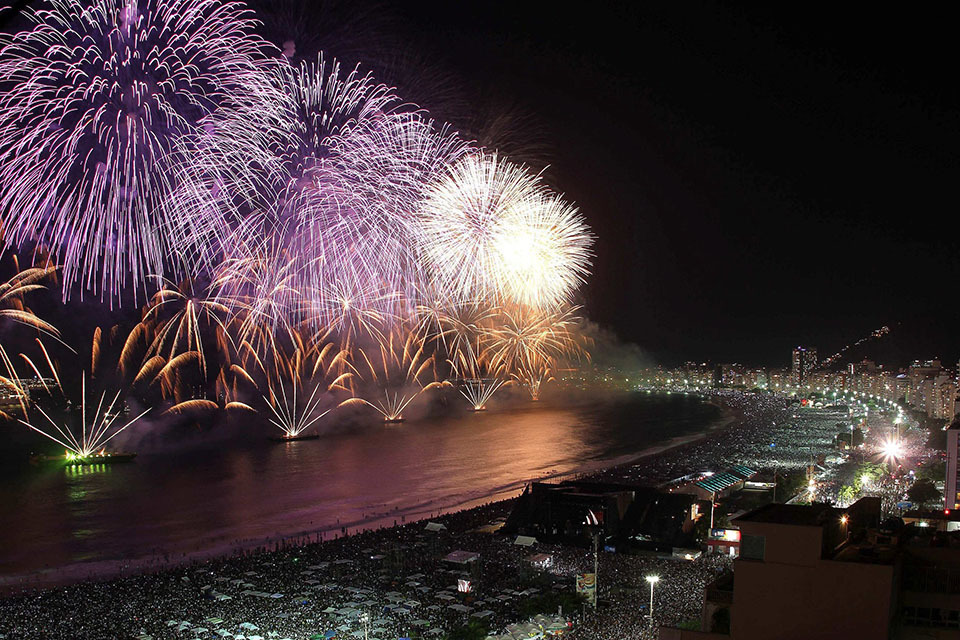 Christmas and New Year in South Korea
Christmas is a big anniversary not only in UK but also in South Korea. And there are a few things in common and difference between UK and South Korea. Generally on Christmas, almost people who live in the UK spend time with their family to celebrate the special day and to give nice gifts for each other. And in South Korea, we also prepare gifts for important people, lovely family and sensitive cats. But usually we tend to spend Christmas with girlfriend/boyfriend for have a nice dinner, look around sight-seeing and have a romantic time. So we sometimes tease to friends who spend Christmas just in their house and watch `Home alone` on the TV. And we can tease a few months for this maybe until spring. It`s legal.
In Korea, to celebrate New Year, we use the lunar calendar. So in lunar calendar, the first of January is usually in February of sun calendar, we call this lunar New Year`s Day (or Seollal in Korean). It is important on this day to pay respect to ancestors. The whole family usually gathers on one side of the family. What I really like culture of New Year is the greeting between young and old family members. The young members bow deeply to older members, and after that you can receive money (called sebaetdon) or you should give money to the other person. So as a teenager, you would receive a lot of money. Another tradition is to eat rice-cake soup – a Korean traditional food (called tteokguk). Traditionally, if you eat the soup, you will gain 1 year of age. (So if you don't want to get old, you can skip to eat that soup.) After the meal, we sometimes play traditional game or fly a kite.
2016 will be the year of the Monkey, so for anyone born on these years it will be your lucky year! 1920, 1932, 1944, 1956, 1968, 1980, 1992, 2004.
Merry Christmas everybody!
Comments
comments