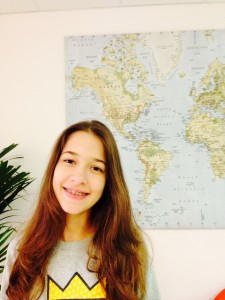 Milena is an u18 student at EC Oxford, an English school in Oxford. Read below for her experience at EC Oxford:
Well, I've been studying English since I was little but in a way to improve it even more, my family and I had decided that I should go abroad, to make me speak and also think in English all day and all night. There were many options but I already had Oxford in my head because I've always wanted to know it since I found out about how amazing this College city is when I was just 13 years old.
Definitely, EC Oxford was the best choice! Even though most of the students were over 18 years old and I was considered the baby of the school for being just 16, everyone received me with kindness and also curiosity about Brazil, my country. I wasn't expecting that I would make friends from Japan to Belgian and that we would feel so close in a couple of days. The group activities in class are all very socializing, making me notice that even though we have different cultures, we are all the same inside! That we are all excited about exploring the world and how it could be a better place if we all understand how each of us think. And EC Oxford helps us putting our force together and opening our minds for those kind of experiences, resulting in lots of changes about ourselves.
Now that I've finished my course I'm already feeling kind of depressive by leaving all of this behind. However, I'm also really happy because I know that the true friends I've made here will never forget me and I'll obviously never forget them either! The moments we've shared and the lessons we've taken together will be forever registered, thanks EC's friendly atmosphere, with the great staff always taking good care of us and being sure that we are all happy with our host families, school residences or classes. Due to all this especial attention, I feel so more confident and that I can communicate with anyone who tries to speak in English with me. I hope (actually, I'm sure) everyone who is still here or coming soon can feel the same way as me. From now on I know I can count on EC family.
Thanks for changing my life!
Comments
comments