From Monday 4th April to Monday 15th April the whole of EC held a Giving Back Fortnight. We organized this event to celebrate the 25 years of EC English. During this week we have run 4 activities:
An EC quiz: we organized a quiz to test the knowledge of our students on EC. The quiz included questions about EC as a whole, about the school and staff at EC Oxford. In order to participate the students donated some money. One of our students, Christina, won 1st prize – a WaterAid t-shirt!
Count the M&M's in the Jar: Students guessed how many M&Ms were in the jar at reception. Again, Christina won by guessing 483 (there were 473 M&Ms in the jar!). Students donated money per guess.
Pudding Auction: Some of the EC staff made some cakes and staff and students donated money to win a slice. We raised over £50 with this!
Orange Day: all the EC's staff and the students wore orange and each donated £1 to charities.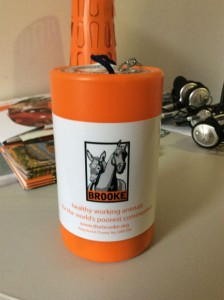 With the generosity from EC Oxford's student and staff, we raised more than £120 which will be shared out between the following 3 charities:
£26.23 for Water Aid: Delivers water, sanitation and hygiene to those most in need and make transformational change happen so that governments across the world provide all of their citizens with affordable, sustainable services.
£50 for Age UK: Helps millions of people every year providing support, companionship and advice for older people who need it most
£50 for The Brooke: Dedicated to improving the lives of working horses, donkeys and mules in some of the world's poorest communities.
It was also the 25 years of EC English; the school was founded 25 years ago in Malta by Marguerite Mangion. Today we run 21 schools in 5 countries (Malta, USA, Canada, United Kingdom and South Africa). Giving back fortnight initiative was launched in 2012. At the beginning, the target was to reduce the carbon footprint of the schools, today, it implies all the company social responsibility:
Environmental action
Economic growth
Community involvement
We are very proud to lead all these actions and we would like to thank all the students for their involvement.
Comments
comments