David, 38 from Spain, writes about his EC experience. Read what he has to say about his time at EC Oxford English Language Centre !
Before arriving to Oxford, I hardly knew anything about the city and I was doubting if it was worth it or not to go there to improve my English. I had to leave my job for a month and spend my savings, so, in a certain way, it was quite risky for me…
Our first day was really interesting: we were welcomed with breakfast and immediately after we did a test in order to find out our level. Then, they placed us in different classes depending not only on our English knowledge but also our different nationalities. Soon after my first week I realized the lessons were so dynamic, motivating, amusing and effective that I decided to extend my stay by two more weeks. At the beginning I had booked my course for one month, and a few days after my arrival I was totally sure I had taken the right decision choosing Oxford as my destination and EC as my school.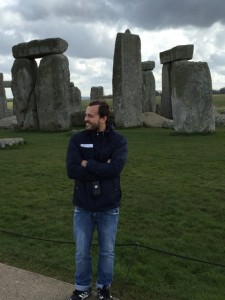 All the teachers are completely professional, young and friendly: Rob, Cullum, Tom, Elliot, Uli… The girls at the reception desk, Erika and Solène, were always paying attention to our needs, helping us, smiling, and doing their work at the same time: it´s totally amazing, I wouldn't be able to do so many things in the same day. And Candice, the Director of Studies, she is lovely and competent. She is always interested in your requirements as well, and she makes you feel very comfortable. The fourth week, I suggested to her if I could join the Advanced group in order to prepare for my exam in Spain, and she immediately spoke to the new teachers (Mark and Karen), gave me the opportunity of meeting my new classmates, getting in touch with that new experience and taking a decision in a couple of days. When I accepted, she gave me my new books and wished me the best once again. I don't regret that change, Mark and Karen were as qualified as the rest of the teachers, and the facilities were as modern and sophisticated, so I felt as satisfied as before.
And what about my residence? I loved my bedroom at 15 Stanley Road and I had the best flatmates in the world! Even one of them, the beautiful, polite and smart Salome was in EC Oxford as well, so we shared a lot of friends and activities. Our schoolmates were from all around the world and I learnt a lot from them, specially from Dahom, our favorite ambassador! Even though many of the students were a lot younger, I had no problem to fit in (I´m 38 years old!) because everybody is fantastic there, no matter how old you are: we are all friends and enjoy watching football together, playing pool, listening to music… The Breakfast Club and Cafe Chats on Thursdays were perfect to get to know the new students, to improve our skills of speaking and to continue making friends for the rest of our lives. Even after school, where I stayed from 9:00 until 17:00 everyday (because Erika pushed me to leave… and because I joined all the afternoon activities there), we went to the pub to continue enjoying and talking. It was the best way of learning English with no effort at all.
Certainly it´s been one of my best moments in life, and I will go back there for sure. Sooner or later, I will.
Comments
comments