Florian, 27 from Switzerland, writes about his EC experience. Read what he has to say about his time at EC Oxford English Language Centre !
I was studying in Oxford for three weeks and I will miss the EC School and the staff there. Also I'm going to miss my new friends I met in the school. I enjoyed the time in the EC School. I think I have improved my English everyday a little bit more. I can recommend the school to everybody who wants to improve his English language.
In my first week I met Akira, a student who comes from Japan. We were in the same class with same level. We explored the city of Oxford together, we visited museums, drank a cup of tea or talked about the world. With Akira the time went very fast.
Agnieszka was our teacher who gave us a lot of homework. I liked to Agnieszka's homework because I learned a lot of English vocabulary.  We read the book `Man Hunt`. It was a scary crime story about a murderer. The story was very interesting and improved my vocabulary, my speaking and my writing.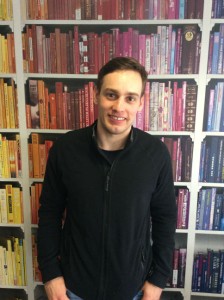 While I was at EC I stayed in two homestay. In the second week Erika, the Student Services Coordinator helped me to change the accommodation. I made a good decision to change because I got to meet different hosts and in particular I got along very well with my second host. In my second host family I also met another student who was staying there. My host Janet cooked very well!
Some weekends I went to London by bus to meet my girlfriend there. On Saturday we went to the theatre and watched `The Phantom of the Opera`. I couldn't understand what the actors were singing but the story was great.  On Sunday we visited the National Gallery and later we went shopping.
The last week in Oxford was very good. Beside the school I enjoyed the International Food Festival organized by the staff of the school. I saw a lot of different food from different countries which the students cooked for us. On Thursday night I visited a night club.
I give big praise to the teachers who taught me and the staff at EC School. I'm pleased to have been a part of the school and I will never forget my wonderful time in there.
Comments
comments