Are you an intelligent, highly motivated student that is passionate about EC?
Yes?
In which case you might be just the person we are looking for!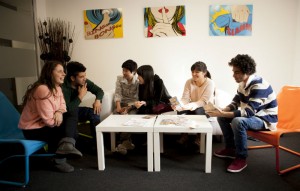 If you are an ambitious business developer with:
A highly entrepreneurial approach to finding new students to study with EC.
Ability to work on your own initiative as an independent entrepreneur. – Highly developed interpersonal skills so that you can work with students, agents and EC's sales management.We will provide you with the training and support you need to create sales leads for EC. This will give you great experience if you are looking to eventually move into a full-time sales role. In fact, with one years' experience as a Student Support Representative, the most successful will be given the possibility to progress on to full-time employment within EC's multinational business.
We are looking for students who will be brilliant ambassadors for EC when they return to their home country. You will use the knowledge you have gained about EC services and products, as well as your experience of the student travel market, to attract and educate potential students about EC.
The role of Student Support Representative will be based in your home country and will involve travel. The role is not a salaried position but we have a very attractive incentive scheme allowing you to earn commission on the successful sales leads you create.
Learn English in Oxford with EC!
Comments
comments