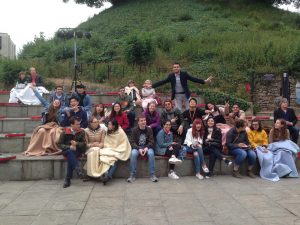 Karin Spoerri joined a large group of students from EC Oxford English Centre on a visit to see live Shakespeare performed at Oxford Castle. Here, she describes the trip and explains what she learnt from the experience.
At EC Oxford one thing is for sure: You'll never get bored! Besides joining classes, studying vocabulary, preparing homework and going out with schoolmates, you should definitely find some time to join EC's social programme. These activities are a lot of fun and they are a great way to get to know students from all over the world.
A few weeks ago, I saw the announcement for the Shakespeare festival in Oxford. I wasn't very interested in going to that event. On the one hand, I didn't think I could understand even one word of a Shakespeare play. And on the other hand, honestly, I'm not that keen on culture stuff. However, some of the twenty-ish students that had signed up felt exactly the same and I didn't want to let them down.
Once arrived at the historic Oxford castle, in whose courtyard the plays were to be performed, I was convinced that I'd made the right decision. The scenery with the impressive castle in the background was outstanding and the castle looked as if it had been built specially for that Shakespeare play.
EC had made it possible to chat with some of the cast and we used this opportunity to find out more about Shakespeare, acting and the English language in general. One of the actors explained to us, for example, that the old English rhymes which Shakespeare had used were composed with a kind of rhythm that would help learning them.
The two plays, which were brilliantly performed in two hours that night, were completely different. Twelfth Night, which was performed first, was vibrant, cheerful and easy to understand. We had a good laugh about Malvolio's yellow stockings.
In contrast, The Tempest was bleak, ghostly, and extremely eerie. Even though I didn't get the meaning of that story with all the magical creatures such as the fish monster Caliban, I felt well entertained the whole time.
I learnt several things that night. Firstly, it isn't vital to have a high level of English knowledge to enjoy a play in that language. Secondly, Shakespeare has written plays for every taste. And last but not least, culture stuff isn't always boring!
Find out more about studying at EC Oxford English Centre   where you can join activities like this as part of your student experience.
Comments
comments