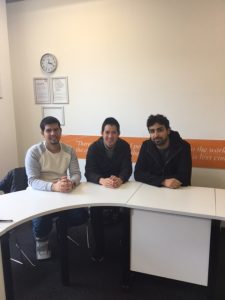 Three Students from the Beginner Class at EC Oxford English School tell us what they like about Oxford
Majed
I arrived in Oxford three weeks ago and on the first day, I relaxed in the city centre. The atmosphere here is enjoyable. The people are respectful and it is sometimes rainy. I like rain because in my country, it is always very hot and sunny. The restaurants are great, especially the fish restaurants like 'The Cuttlefish'.
Poom
I like Oxford because it's a small city and it's comfortable on the bus. It has no traffic jams. It has great weather and it sometimes has snow in the winter. I like playing football and videogames with friends especially when I win. The restaurants are good especially 'Sushi Corner'.
Abdullah
I like Oxford because it's a very green city and the weather is cool. I love British weather. It is very different to my home. Oxford is a small city and it's quiet. The people are friendly and respectful. You can get a boat on the River Thames in one of Oxford's gardens. it's very nice and romantic.
Comments
comments