EC Oxford English School welcomes Verena to join us as our new intern. Read on to find out more about her studies, why she's here and what she likes to do in her spare time. Welcome Verena to EC Oxford!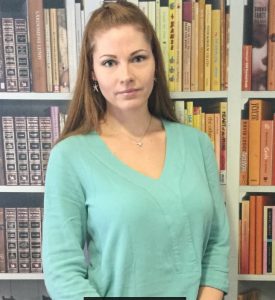 My name is Verena and I am a student in Germany at the Saarland University with German Studies as my major and English/American Studies as my minor. With this combination, you can choose an optional subject as well and I decided to learn Spanish.
At Saarland University, it is common to do an Internship or to study abroad. For the English major, it's 6 months; with the minor, it's 3. So that's why I am here now to do my 3-month Internship at EC Oxford English School.
I learned about EC on the Facebook website of my English department where the coordinator posts regularly about new jobs, internships or study programs. My first week here at EC was very exciting – I learned a lot about the process here and I met super nice people.
When I have some time off, I really like to be creative. In Germany, I paint, work in my garden, play the guitar and sing or do crafts. I love to dance, especially Salsa and Kizomba, I am a movie junky and I love to hang out with my friends.
I consider myself as a very social and fun person, who is a good listener and easy to talk to. When it comes to my future, I would love to work in the language research field or be a forensic linguist.
Comments
comments