'EC in Cambodia' isn't the first thing that springs to mind if you were asked 'Where is EC?'! Our global community has language schools across the English speaking world but since early 2017 EC English has been working with the charity United World Schools to build a school in a small, remote village in Cambodia, called Ban Houy.
The school is now up and running for the 165 children in the village of Ban Houy and in February 2017, Agnieszka joined an EC in Cambodia trip to the school and here she shares her reflections on her experience.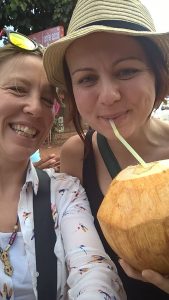 When I think about my trip to Cambodia, it is like looking back through a kaleidoscope. The variety of emotions, colours and activities I went through was overwhelming. I feel I got a true taste of this beautiful yet heart-breaking country.
I remember how we were driving on the bumpy roads and had a chance to see lush green landscape that quickly changed into arid brown soil. I remember how astonished we were to see entire families perched on scooters (sometimes up to 5 people on one moped!). Also, how scared we were speeding in tuk-tuk taxis in rush hour traffic, holding on to avoid falling off.
A great pleasure of mine was wandering around Stung Treng, watching the Cambodians relaxing by a river, eating Balut (fertilized duck eggs) and drinking a local dark ale – Black Panther. None of us was brave enough to try Balut!
I remember, in Ban Houy, men swinging in hammocks under the huts that were raised on stilts, women washing clothes in a river, children bobbing and splashing in the water.
There was also, of course, spectacular Angkor Wat. The punishment of pre-dawn alarm clock was very much rewarded later with the incredible sight of the sun rising. A bit hidden by the trees, but still truly remarkable.
I was particularly moved by the trees growing out of the ruins of Ta Prohm, which for me was a bit of like a beautiful organic metaphor of what we have experienced: the whole creativity of preparing the lessons, the harmony of working together in a team, our plans to carry on with the project, interacting with local people, but also concentrating on self-reflection and personal development.
I think it is honest to say that my perspective on many things has been altered since the journey, things that I feel prior to the Cambodia experience I may have taken for granted.
It was humbling to observe people having so very little and being grateful and optimistic about their circumstances. I am indeed thankful that I could be a part of this opportunity. I feel that we have opened a door to something long lasting and that we built bridges between a local community, United World Schools and EC English.
Teaching in Cambodia was most definitely a joy, the children were very enthusiastic and thrived in the learning environment. I will take inspiration from Ban Houy's teachers and staff who were some of the most optimistic, dedicated and hardworking people I have ever met. Despite struggling with a lot of difficulties and scarce resources, they were always cheerful and truly committed to the children in the community.
The journey was a huge motivational boost and something that I believe I will take inspiration from in the future. It was a real privilege to be part of the EC in Cambodia project.
Comments
comments