Pascal, from Switzerland writes about his EC experience. Read what he has to say about his General English course at EC Oxford English Language Centre!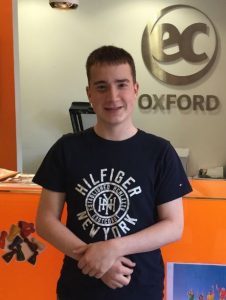 My time in Oxford has almost come to an end. I have been staying in Oxford for five months. Actually I booked only three months but I decided to stay two months extra because I had made good progress and was having a really good time in this school.
When I arrived in Oxford I started in the Elementary (A2) class, studying the General English course. Now five months later I could improve my level to Intermediate (B1+).
EC is for me a really good school. Rob, Candice, Kylie and also all EC teachers always did a well-organised job. I think the most important thing in an English Language School is to improve your English with the help of the teachers, and this is in EC completely true. Every one of the EC staff knows their responsibility and they always give their best to help the students.
The Centre Manager Candice, the Assistant Director of Studies Rob and Kylie, the Student Services Coordinator, are also always there for the students and give a heart-warming welcome to everyone who has a question or only wants to speak to one of them.
The lessons in EC are really nice and are always well-organised. My teachers Lorna, Agnieszka, Adam and Mariam are the best teachers I have ever met and they did everything they could so that I could improve my English. They also recommended a lot of things to do in my free time, outside of my General English course in class.
Oxford is not really a big city but it's really beautiful. It has a lot of parks and also a lot of free time activities. It has a lot of museums, you can punt, go to the ice-rink, walk in one of the parks and visit pubs.
However, one of my most favourite places in Oxford was Port Meadows. This is a big park a bit outside of Oxford. It has horses and cows and also a river and a small lake. It's really beautiful to have a picnic there and to enjoy the sunset.
Another thing is the people in EC. I met a lot of different people from all over the world and I learned not only something about English, but I also learned something about other countries, religions, traditions and cultures. I have now a lot of new friends in different countries in the world and I'm still in contact with these people. In my future I might visit my new friends in their countries and they might visit me in Switzerland.
A big thank you to Rob, Candice, Kylie, Agnieszka, Lorna, Adam and the whole EC Staff!
I will never forget this experience with EC Oxford!
Thank you, Pascal for sharing your experience of your course, and many best wishes for the future!
Comments
comments