Manuel, a newly arrived EC Oxford student studying General English, reviews his class visit to the Bodleian Treasures exhibition in the Weston Library, part of Oxford University's Bodleian Library in the heart of Oxford, explaining why studying English in this way is a breath of fresh air.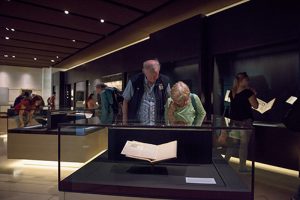 In this day and age, people believe that the only way of studying English is sitting in a classroom listening to your teachers and writing down every word they say.
However, I feel that we can learn by doing a wide variety of different things, as we did on the 17th August. We went to the Weston Library to see an exhibition based on pairs of objects that are related somehow.
As a new student in EC Oxford, I found that kind of activity during class very interesting and an innovative way to try to approach the students and make you learn through experiences.
Perhaps it would be easier and more enjoyable if we learn by practice outside the classroom, due to the fact that you will be able to use your English with other people and you have to understand by yourself what is shown in the exhibitions.
This exhibition, in particular, had some complex vocabulary. Moreover, we could improve our English and enrich our knowledge at the same time thanks to that.
I was really fascinated by all the ancient objects there, all the history behind them and the message they send us. The exhibition has many marvelous things for every kind of person. You just have to let yourself go in order to enjoy the amazing stories those pairs of objects tell you.
I was completely moved in particular by two ancient manuscripts which have a set of moral codes and some guides to make people live in harmony and in an environment of respect for each culture; I liked it because it showed me how in that age people listened to, venerated and read those lessons to apply them in their lives in order to have a better life in terms of happiness and reflection.
I really enjoyed it and I highly recommend it for future class activities.
Comments
comments