There are many places for an EC Oxford English student to visit when based in Oxford: the White Horse, Bicester village and countless of other attractions to tempt a student out of the city of Oxford itself. Here, Ina, an EC Oxford English student, talks about her fantastic day trip to the beautiful Blenheim Palace and a typical English village called Bourton on the Water. Bourton on the Water is located in the Cotswolds, a beautiful area of natural beauty and chocolate-box views.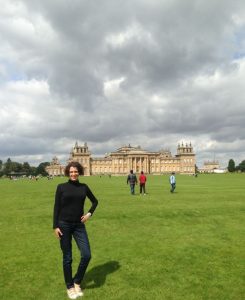 I visited Blenheim Palace and Bourton last Sunday. It was the best experience I have ever had. The Palace is very beautiful.
The tour was very interesting, because they had different videos with explanations in each room.
They also had some posters about the "Victorian Kitchen" which were quite interesting for me, because I wrote a term paper about "Victorian Kitchen" and my Bachelor Thesis about the Victorian Parlour. This way I could learn more about the Victorian period.
An exhibition was also offered to the tourists. After I did the tour I had the possibility to visit the exhibition. This was fantastic!
Afterwards, I could relax and have some tea. The view to the garden was amazing and I enjoyed it a lot.
Bourton on the Water was the next place we have visited. It is typical English and very beautiful. I walked in the center, went to the shops and took lots of photos. It was recommended to us to have the cream tea in one of the cafes. So, I had one, of course.
All in all, I liked the trip a lot and it was a great experience for me. I will visit Blenheim Palace next time again.
Comments
comments