It is with a heavy heart we as the staff at EC Oxford say goodbye to Kazuki. Kazuki has been an Academic Year student at EC Oxford – Academic Year being our long-term course for students here for six months or more. Read his inspirational blogpost below about how he went from being a nervous new student to enjoying the role of our Student Ambassador!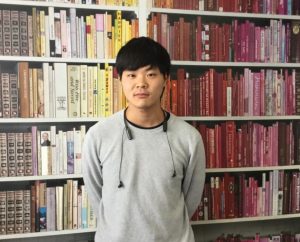 I've spent a long time in Oxford, for almost six months on an Academic Year course, so I had many great experiences that are unforgettable for me.
The most fun thing I've done in Oxford is going to pub with my mates. It also gives good opportunities to have a chat in English. Well, I just love a drink.
Basically, I spent every weekend with my friends going somewhere, cooking something or studying English.
Above all, the most impressive thing was going to watch premier league which is one of the greatest football league in the world. It was indescribable – if you are staying in UK, you should go. Though the ticket is a bit expensive, it is worth visiting.
However, after a wonderful weekend, Monday always comes, sadly, and just on Monday, I, as a student ambassador, have to arrive school a bit earlier than other days to welcome new students.
But it is really exciting because I can make new friends every Monday! It is a great start of week, isn't it? And making new relationship among students is also my task so I try to communicate with many students, but it's quite difficult because especially new students tend to be shy, like I was on my first day, so it is also important to make them smile.
Anyway, this experience is not available for all students so I really appreciate EC giving me a chance to be a student ambassador.
Up to here, I have explained how I spent a marvelous time during these six months. However, actually, I have also faced many difficulties from the first day to now as well as positive things.
I will never forget my first day. It seems like yesterday. On the first day, the moment when I opened the door, Kylie, our student services co-ordinator, told me "Good morning!" so I answered "Good morning!" pretending to be cheerful although I was really nervous. Then I was taken to lounge and met the student ambassador and new students.
In the first place, I was a pessimistic person so I couldn't help being nervous because of the new environment, besides almost all of the new students who came on the same day as me were already good at speaking English so it made me tense more and more.
Then, finally, my overconfidence was smashed into small fragments and I felt lonely. It is like a hell, isn't it? But, now, strangely, I am writing this blog as a student ambassador. I couldn't imagine this situation on my first day because I thought it was impossible for such a coward to write an essay in English.
But, when I lost confidence and found where I was, eventually, I could be ready to challenge to myself, throwing away my useless pride. From that time, every day is a struggle against myself to change myself.
With this thing and that my English was getting better step by step, and now, I'm writing this essay in English.
By the way, what do you think is the key of progress of English, which everybody can do, even if you aren't talented? It is that, in my opinion, to believe in myself. It's a quite common and cheesy line, but it's tough to embody these words.
Indeed, it is really hard because progression can't be seen visually and we sometimes feel our English recedes so I often felt stressed and like a failure and even wanted to give up, but persistence pays off, nothing is more valuable than continuous effort, isn't it? I'm sorry for acting big, but even if you don't have anything, I think you can accomplish many things not just learning English if you can make an effort.
In short, great effort exceeds being talented! It is the best lesson I learnt from the time I spent as an Academic Year student at EC Oxford, it is absolutely more important than learning any difficult vocabulary.
Probably, I will face many obstacles from now on, but I'm trying to keep making effort to beat them, believing in myself as I did during staying in Oxford.
At last, the day I'm going back to Japan is coming bit by bit, so before getting back, I have to thank everyone for supporting me all the time, thank you for everything EC Oxford!!!!
Comments
comments