What unites everyone at EC Oxford is that all our students have chosen to study in Oxford, the student city. But it's always important to remember not just where we are, but where we're from!
Because of this, Rob asked the Beginner class studying General English at the moment give us a snapshot of their hometown. We all know that even if we study in Oxford, our hometown is where we have our roots.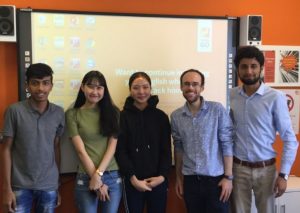 Bupyeong
Bupyeong is a small city but many people come to buy their clothes there because it has a lot of underground stores. The underground stores have various nice clothes so I can buy my clothes easily.
It has four seasons. The summer is very hot and the winter is cold these days. And then the traffic jams are bad because it's near Seoul which is the capital of South Korea.
Sanliurfa
Sanliurfa is a medium-sized city. It is in the south of Turkey. The atmosphere is boring but historical areas are a little enjoyable.
The weather is very hot. It is the hottest city in Turkey. It is an agricultural city.
Jeddah
My hometown is a big, beautiful city. The weather in Jeddah is so hot. It is an industrial city. The town centre is old and the city centre is new.
Jeddah has a lot of beaches and it has two airports. There is no cinema and there are no buses in Jeddah.
Busan
Busan is the second largest city in South Korea and a famous city because it has a lot of beaches so the seafood is famous!
The weather in Busan is warmer than other cities. It rarely snows in the winter.
There is a big bridge so many people come here to see the bridge. In October every year we have a big fireworks festival on the bridge. It's so beautiful.
Many tourists come to Busan for swimming on the beach and there are many big, beautiful, famous hotels near the beach.
Comments
comments