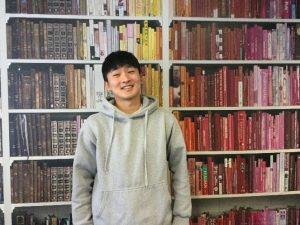 Wooseok, a student from South Korea, writes about his EC experience. Read what he has to say about his time at EC Oxford English Language Centre!
Hi, I'm Wooseok from South Korea. I'm studying Tax Accounting in university. After I retired from the army, I wanted to study English instead of going back to university. So, I decided to go abroad to learn English. But, after I made the decision that I would go to the UK to learn English, I couldn't decide which city I should go to in England.
Although I at first preferred to go to London, I came here. Because, firstly, almost all Koreans speak with an American accent, so I want to do little bit different. Especially I heard, people who live in Oxford speak with a Royal accent.  Secondly, this city is so accessible. Finally, Oxford is a famous in the UK.
To be honest, when I came here first time, I didn't expect a lot. But it was my illusion. The weather is not bad, Oxford people are so kind to foreigners, I can see beautiful buildings on every street. For example, Christ church, Carfax tower, Radcliffe camera and some pubs. I've never been to such a beautiful city in which every street is attractive. It's so interesting to me, because it's so different to Korea.
The most important reason why I like Oxford is that it is so accessible, as I've already said. To go to London from here, it takes only 1H 30Min by bus, and it's also close to Cambridge, Brighton, Birmingham and Heathrow airport.  I think if you want to study English in a beautiful city and want to visit many other cities, I recommend  EC Oxford to you.
Comments
comments