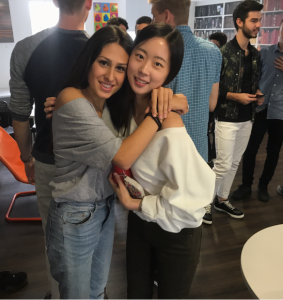 Haemin, a long-term student here at EC Oxford, writes about her experiences with her Academic Year course.
Last year, I decided to go abroad to improve my English so I took my course one year off from my university. And I've been studying my Academic Year course in Oxford since May, and I'm still enjoying all the time in here as well.
In Oxford, you can meet lots of young, passionate students from various nationalities. Therefore I can learn a lot of things from other cultures, and this is the most favourite thing in here. You can feel academic and calm atmosphere in EC Oxford with lovely friends, the best teachers, and kind staffs. In each lesson, not only can you build up your vocabulary, grammar, or writing skills but you also can learn general English speaking such as idioms or informal languages.
After school, you can join activity which is different from every day and every week. For example, you can participate to play football or go ice skating in Sports Week and also you can share your foods from your country in Culture Week. Sometimes, if I don't feel like joining activities, I usually go to park to have a chat with my friends or read some books. Or, you can go for a pint (there are lots of pubs in here) or grab some coffee with cream tea as well. You can also improve your English gradually after your class, not only in the lesson.
As learning English, feel the atmosphere in Oxford as much as you can!
Comments
comments