Anya, our intern here at EC English school in Oxford, is originally from Germany and she gives us an overview of the famous Christmas markets in Germany.
In my home country Germany Christmas markets, in german called, 'Weihnachtsmarkt' are very popular. A Christmas market is a street market associated with the celebration of Christmas during the four weeks of Advent. The history of Christmas markets goes back to the late Middle Ages in Germany.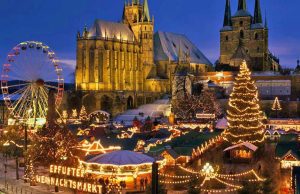 The market is traditionally held in the town square and has food, drinks and seasonal items from open-airs stalls. Here you can buy all kinds of Christmas merchandise and gifts, especially traditional things such as crib figurines, toys, wood carvings, marionettes, candles and lambskin shoes to place underneath your traditional Christmas tree.
Christmas Markets are held in cities, towns and villages throughout the country and they evoke an enchanting Festive Season atmosphere. Every Christmas market shows the Nativity Scene, you can buy Nutcrackers, candied, toasted almonds, 'Bratwurst', 'Christstollen' and tradtitional Christmas cookies such as 'Lebkuchen' and 'Magenbrot'.
For many visitors one of the highlights of the market is 'Gluehwein' (hot mulled wine). The hot mulled wine helps stave off the cold winter air which sometimes dips below freezing. It's common to meet your family and friends at Christmas markets and enjoy spending time together.
So if you are planning to visit Germany in winter, don't forget to visit a Christmas market!
Comments
comments