Laura, an Academic Year student at EC English school in Oxford, passes on tips on how to make the most of Oxford from restaurants to visiting the University Colleges.
If you hear 'Oxford is boring', it's because that person doesn't know about all the activities that Oxford offers for tourists and students. I know this city is very small but doesn't mean that you can't do anything!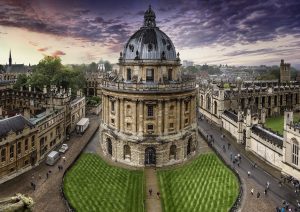 Oxford is very famous for pubs and bars. For me, the best is TVC on the High Street. It's a place with three floors and on the roof terrace of the building you can see all the city. Also, The Chester on Chester Street has delicious food. I recommend you eat beef there; another place that I recommend is Angel & Greyhound on St Clement's Street.
If you want to have a picnic with friends or just do exercise for me the best option is the Park next to Christ Church. It's so big and green. As well, University Parks is a good choice.
For restaurants I really like COSMO on Magdalen Street. It's a Buffet, you just pay for your plate and you can eat unlimited food. There are lots of types of international food. Also, The Swan and Castle on Castle Street is pretty good – British food for a good price.
If you want to do academic activities, you can enjoy the meetings in the college. Just enter in the website of the college that you are interested in and see many activities that they have available for all people. With this idea you can connect with new people and enjoy different activities.
However, for more info about the activities that you can do in Oxford, you should see dailyinfo. On this website you may find in What's On all the meetings, concerts, Cinema, Festivals, Exhibitions, Tours, Theatre, etc. happening at the moment. Don't think Oxford is boring because it's not – just discover more and enjoy!
Comments
comments