Anya, our intern here at EC English school in Oxford, writes about her small but lovely home town in Germany.
My home town Bad Hersfeld is a festival and spa town ('Bad' is a german term which means spa) in northeastern Hesse, Germany, roughly 70 km southeast of Kassel. The foundation dates back to 769 when Lullus, a former monk in the Benedictine monastery of Malmesbury Abbey in Wiltshire, established the Benedictine Hersfeld Abbey. In his honour, we are celebrating the Lullusfest every year in the week of the 16th October. The Lullusfest is the oldest folk festival in Germany and was established in 825.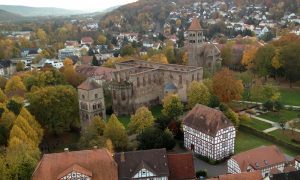 During this week, there are many attractions and fun rides on the town square. But the most important attraction is the bonfire, which burns continuously for 7 days. Regarding this, it's a tradition for children to throw dried chestnuts in this bonfire.
Bad Hersfeld is known countrywide above all for the Bad Hersfelder Festspiele (Bad Hersfeld Festival), which have taken place each year since 1951 at the monastery ruins, called "Stiftsruine". The Bad Hersfeld Festival is a theatre, musical and opera festival and takes place every year from mid-June to early August.
The ruins themselves are said to be Europe's biggest Romanesque church ruin. The monastery ruins have a mobile roof above the auditorium, so performances in all weather conditions are possible. If you plan to visit Germany, I can really recommend this small town in the middle of Germany!
Comments
comments