It's the last week for our two interns Ayan and Anya here at EC English school in Oxford. Read this blogpost to find out how Anya experienced her internship and her stay here in Oxford.
My twin Ayan (from another mother in another country) and I started our internship on the 11th September here at EC English school in Oxford. As an assistant for the student service coordinator, I had to work with the internal database, which meant downloading, updating and evaluate the needed reports. Furthermore, I had to create PowerPoint presentations, posters for the social programme and communicate with students from all over the world, to make them feel comfortable.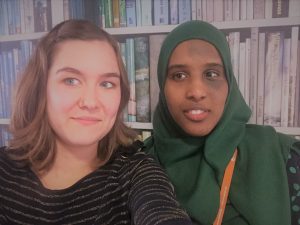 On the other side I had to fulfil tasks for the academic side, which included uploading blogposts and printing reports for the teachers. This is just a brief overview of my areas of responsibilities, the tasks are very divers.
Before I came here, my mind connected Oxford with the university and old gothic architecture. But Oxford has more to offer than this. My favourite place here in Oxford is Christ Church Meadows, because not every city has a grand park with a meadow for cows in the heart of the city.
I really enjoyed the cultural diversity among the students and the small staff size here in the school. It's not ordinary that one is able to get in contact with people from all over the world.
I learned and developed lots of skills. More precisely, I improved massively my computer and English skills. Additionally, this experience gave me the opportunity to self-reflect my personal strengths, weaknesses and desires concerning my future job field.
After three months living here I can say, that The UK is not that different compared to my home country. Naturally, there are a few differences regarding to living conditions like traditional dishes, flat sizes or the average temperature. The British people are very polite and nice, but nevertheless I can't get over the fact, that cars drive on the wrong side of the road.
When I'm back in Germany, I'm going to celebrate Christmas with my family and friends. For next year, I'm planning to move to Berlin and find a job there.
My internship here at EC English school Oxford was a good experience and I can recommend it for people, who want to gain practical experience, are willing to take over responsibility and like to work in a sometimes hectically but friendly environment.
Comments
comments