It's the last week for our two interns Ayan and Anya here at EC English school in Oxford. Read this blogpost to find out how Ayan experienced her internship and her stay here in Oxford.
This week will be my final week here at EC Oxford. I arrived on the 11th Sept along with Anya (who I call my twin as people tend to confuse our names) for a duration of 12 weeks at Oxford. As interns in the student services team, we worked in a wide range of tasks. Our responsibilities were not limited only to student welfare, but also included accommodation and reception duties. No day was like the other. Some days it would be really hectic till the last minute while other days, it would be really quiet that it would be worrisome. All in all, an adventure.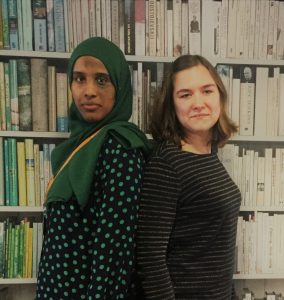 I didn't have an image of Oxford before I arrived. I was surprised however, at the large number of students residing in the city. What I really love about Oxford is of course the beautiful buildings throughout the city. The colleges and the churches have stunning architecture and its amazing how they still withstand in their original form for centuries. Oxford is indeed blessed!
I enjoyed the multicultural environment the most during my time at EC. You get to meet students from all walks of life with various age range and countries. Learning their customs and phrases in their native tongue are some of the perks you get in such setting.
A lot actually as I did not have any practical skills beforehand. My computer skills developed the most here as I was always using different programs. I got to know myself better, my strengths and weaknesses and evaluate myself. I was most proud when we left in charge while Kylie was on leave and we had to cover her.
I lived in London when I was younger so I was familiarized with the UK but even so, coming back as an adult, I was still surprised.
British people really are polite. They always say the 'magical words' even when you pass them a pen or a paper. They don't spare on the please and thank you which is nice. Thanking the bus driver when they get off is done more so in Oxford than in other UK cities. But I think it's a nice way to be appreciative of the drivers. British people tend to be quite friendly striking a conversation with a stranger randomly. Not the norm at all in Norway.
The rounders competition on sports week. I was lucky to join the students and I'm glad I did. We were a big bunch and it took some time before everyone got the rule but once we did, the game really heated up. The game ended at a draw but satisfied with the team spirits!
Go back to my parents' house and prepare for a childhood friend's wedding during Christmas. And of course, start looking for a job.
If your looking for a new challenge working in a busy environment and meeting people from all over the world then this is the place to go.
Comments
comments