EC English school in Oxford is very excited to announce that for the first time ever we will be putting on a play for our students of the much-loved Dickens' Christmas tale called 'A Christmas Carol'!
The play will take place on Thursday the 14th December at 4pm in the student lounge once it is dark outside!
Since EC Oxford opened in January 2013, it has been my dream for the staff of the school to put on a play for our students to introduce them to our culture through some of our most famous literary work. With an enthusiastic team of staff who love acting and being creative, finally my dream is coming true!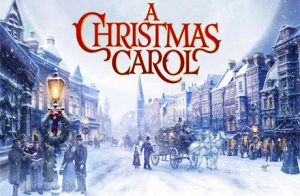 Written by Charles Dickens, 'A Christmas Carol' is a wonderful tale which intertwines the warmth of human spirit with a few ghost stories as one man journeys towards redemption and the hope of becoming a better person! The result is both thought-provoking and heart-warming.
'A Christmas Carol' is adored by millions around the world and since Dickens penned this famous Christmas tale, it has been staged all over the world and still delights audiences to this day with old and modern film versions of the story.
Currently, the staff at EC are all working hard to learn their lines and perfect their costumes. It is our hope to bring this wonderful story alive for our students and we look forward to sharing this famous tale with you all.
The play should last approximately 45 minutes. We are selling tickets at £1.50 and all money will go towards providing students with food and drinks before the show. Please see reception if you wish to buy a ticket.
We really hope you will come and support us in our attempt to entertain you this December and look forward to seeing you there!
Comments
comments