Last Thursday, the staff at EC English School in Oxford performed a traditional Christmas play for all of the students. You can watch the whole play on our facebook page. Read on to find out how Candice experienced putting on the play, from coming up with the idea to seeing her vision become a reality.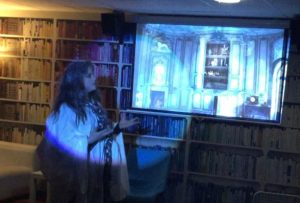 Late October Rob walked past my office and I shouted out an idea I have been harbouring for several years to him.
'Rob, I would really like to put on 'A Christmas Carol' for our students this year' I shouted as I saw him walk past.
'Great idea!' he replied.
So, it was with great enthusiasm that I took a pre-prepared script of Charles Dicken's famous Christmas tale and set about editing it to remove unnecessary scenes and simplifying some of the language to make it more understandable for our students.
Rob and I floated the idea past the teachers in a meeting and were encouraged by their reactions which ranged from accepting to positive enthusiasm.
The weeks rolled by and we worked hard to learn our lines, prepare our costumes and find precious time to rehearse. Tickets were sold until we sold a maximum of 57, 17 more than my personal target of 40. I am proud to say nearly every student in the school came to watch us.
The lead-up to the play was not without its problems including sick teachers, props which never arrived from Amazon and last-minute changes to the sets. However, Thursday the 14th December dawned and with great excitement we all came to work. As the teachers taught, Rob, Giacomo, Kylie and I set up the students' lounge in preparation for the play which had been 6 weeks in the making.
At 4 o'clock that afternoon, the students trooped into the student lounge, took their seats and the proverbial curtain rose on our hard work.
Each person brought their own brand of personality to their part from humble Bob Cratchit played by Rob to Scrooge's mild-mannered nephew, Fred played by Ryan to the happy, outgoing Ghost of Christmas Present played by Mariam.
Lorna did a wonderful job of playing a broken-hearted Belle who felt she had no choice but to leave young Scrooge, the man she loved as he was changing into a person she could no longer be happy with.
Kylie took on two parts and brought warmth to both roles from the cheerful but very ill Tiny Tim to Scrooge's enthusiastic sister, Fan. Sarah's rendition of Mrs. Cratchit raised a few laughs from our audience and she admitted channelling Miss Piggy from the muppets into the role of the bossy but kind-hearted wife of Bob Cratchit. Giacomo, our intern, played the part of Peter Cratchit with great sensitivity.
Many thanks go to Agnieszka for her never-ending enthusiasm for the play and her wonderful costume as the Ghost of Christmas Future. Her red laser-eyes and skull mask provided the staff with many laughs before the play took place. Additional thanks go to Agnieszka for her willingness to step into the role last minute of the Ghost of Christmas Past due to Lisa unfortunately being sick on the day of the play. With just a few hours to learn her lines she did a wonderful job bringing the role alive.
Many thanks also go to Nesli for filming the play and to Malachy for dealing with the lighting.
However, if you were there, I think you will agree that it was without doubt Tobias who stole the show with his excellent interpretation of Scrooge. With his commanding voice and wonderful stage presence Tobias superbly conveyed the bitterness of Scrooge early on in the play to his gradual redemption as the three Ghosts show him important scenes from his past, present and future life.
Tobias imbued this lead role with the required anger accompanied by a vulnerability and sensitivity which is important for the character to have in order to make the necessary change towards becoming a better person in such a short time.
As for me, I played Jacob Marley and enjoyed the role very much, particularly wearing the costume and scaring the students! Let's not think about the part though where I forgot my lines….
Thank you to all who came and supported our play. We hope you enjoyed watching it as much we enjoyed preparing and putting it on for you.
Till next year?
Comments
comments