We're extremely happy to welcome Ryan to the teaching team at EC Oxford English School. Here Ryan answers questions from our students ranging from why he's here to what he does when he's not teaching.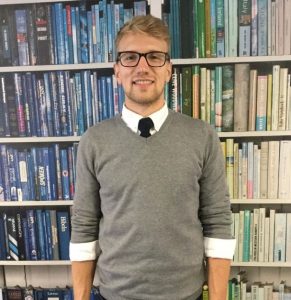 Q: What did you do before you came to EC Oxford?
Before coming to Oxford, I finished my Master's degree in Ancient History. After that, I worked at a summer job I had for eight years working outdoors in the wilderness. In the summer of 2017, I was teaching English at EC Toronto!
Q: What has been your first impression of EC Oxford?
EC Oxford is very friendly and focused. Our school is small, but it feels like a community and it's very supportive. Everybody is so kind, has a lot of fun, and loves to be here!
Q: Why did you choose to move to Oxford?
I chose to move to Oxford because my fiancée is starting her doctorate in History at the University of Oxford. I came with her to support her and explore the UK!
Q: What's your hometown? How is it similar or different to Oxford?
My hometown is in Canada. It's a town called Orangeville and it's a medium-sized town. It's different from Oxford because it isn't very historical and the winters are much colder and have more snow. It's similar because it has too many cars in a small space.
Q: Your job is all about helping people like us who are learning English, but have you learned any other languages? How did you learn them?
I learned to read French and to speak it a little too. I learned to speak in school as a teenager. When I was in university, I improved my French by myself because I had to research in French, so I read better than I speak. In university, I also learned Latin and Ancient Greek!
Q: What are your hobbies and interests?
I like to be outdoors hiking and practising survival skills. I like learning how to prepare food in traditional ways and I really enjoy reading and writing stories and poetry.
Q: What type of movie do you watch often?
I often watch adventure/action movies like the Lord of the Rings and Braveheart. I also really like documentaries about the environment, food, and history.
Q: What is the most exciting activity you have ever done?
For me, camping is the most exciting activity. I love going out into the forest for days and days. It's fun because it's challenging and peaceful at the same time. I love being in nature and learning from it.
Comments
comments