Last week the staff at EC Oxford put on the play A Christmas Carol. The whole school turned up and here Sarah, one of our longer-term AY Students, reviews the play – if you missed it or want to relive the Christmas magic, you can watch the whole 35- minute production on our facebook page!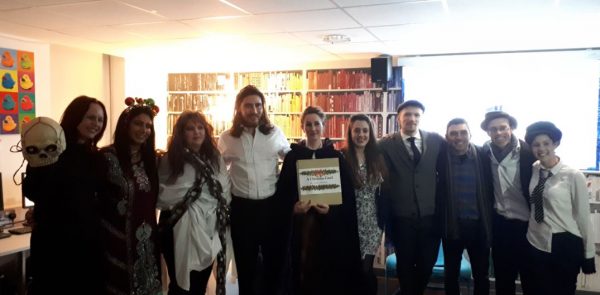 Christmas found its way into EC Oxford in the past weeks, starting out with a sparkling Christmas tree and several smaller decorations. But last week the Christmas spirit feeling really kicked in starting with a festive Christmas Clinic on Tuesday which was so well attended that class room looked rather small in comparison to the number of students in it. Rob introduced us all to several British Christmas traditions e.g. mince pies and Christmas crackers.
However, there was something even better to come on Thursday. Having practised for weeks the teachers finally presented their unique take on the play "A Christmas Carol" by Charles Dickens.
Playing grumpy Ebenezer Scrooge Tobias showed of his remarkable acting skills alongside Ryan as his Nephew Fred in the opening scene which made for a good laugh for all the students with the famous quote "Bah, Humbug!".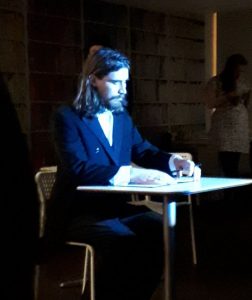 Lorna guided the audience through the rest of the play as the narrator as well as playing Scrooge's ex-fiancé Belle in a rather sentimental and emotional scene. But Lorna was by far not the only one playing not only one but two parts.
Rob convinced the students with his performance as Scrooge's employee Bob Cratchit as well as playing young Ebenezer. Even though the costumes weren't too different from each other Rob managed to make the two roles easily distinguishable.
Kylie lightened the mood in between with her carefree and festive spirit playing Scrooge's little sister Fan as well as Tiny Tim. Sarah and Giacomo completed the Cratchit family in lovely Christmas scenes.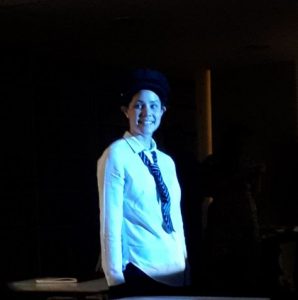 But what would "A Christmas Carol" be without the ghosts? In her stunningly scary costume Candice delivered a convincing performance as the ghost of Scrooge's dead business partner Jacob Marley, followed by Agnieszka playing both the ghost of Christmas Past and of Christmas Future showing of glowing red eyes that won the heart of the audience. In between Agnieszka's scenes Mariam took on the part of the Ghost of Christmas Present in a costume that did a great job representing the magic of Christmas.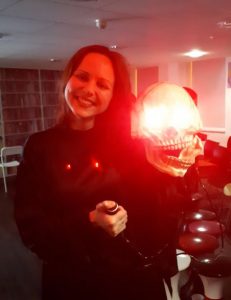 Overall the staff of EC Oxford put together a magnificent play, it was an amazing and unique experience. On behalf of any future students I hope that a project as delightful as this will turn into a tradition, giving more students the opportunity to get to know their teachers in another way.
On that note, "God bless us, everyone!" and Merry Christmas!
Comments
comments