Last week, we said farewell to Khled but here he expresses his thanks for the people who made his time at EC Oxford English Centre special.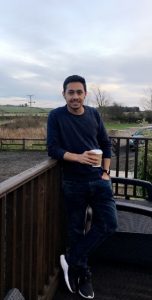 I would like to thank all of you at EC Oxford for everything you have done for me. I have had a wonderful experience thanks to your hard work, your enthusiasm and your kindness.
During my stay in Oxford I have been very well looked after in every possible way. At the start you helped me to find good accommodation. You made settling in easy and you worked hard to make sure I was able to gain the maximum from my course.
I would like to thank my teachers, Adam, Sarah, Mariam and Tobias, who have worked incredibly hard every day to help me understand the English language. The lessons have been enjoyable, full of variety and very useful.
Last but not least, I am very grateful to everyone in administration from Candice and Robert right through to your latest recruit, Giacomo.
I will never forget my time in Oxford. Thank you!
Comments
comments